New York State does not have a flagship university. Instead, it has four University Centers. Last week, I visited one of these University Centers, Binghamton University. Binghamton University is a research university that boasts "excellence and value." It has about 13,600 undergraduate students.
Location
– Binghamton University is in upstate New York. The main campus is located on Vestal Parkway in Binghamton. Vestal Parkway has lots of chain stores and restaurants.
In addition to the main campus, there is a building in downtown Binghamton that houses the College of Community and Public Affairs. There has been a resurgence in downtown Binghamton in the last five years.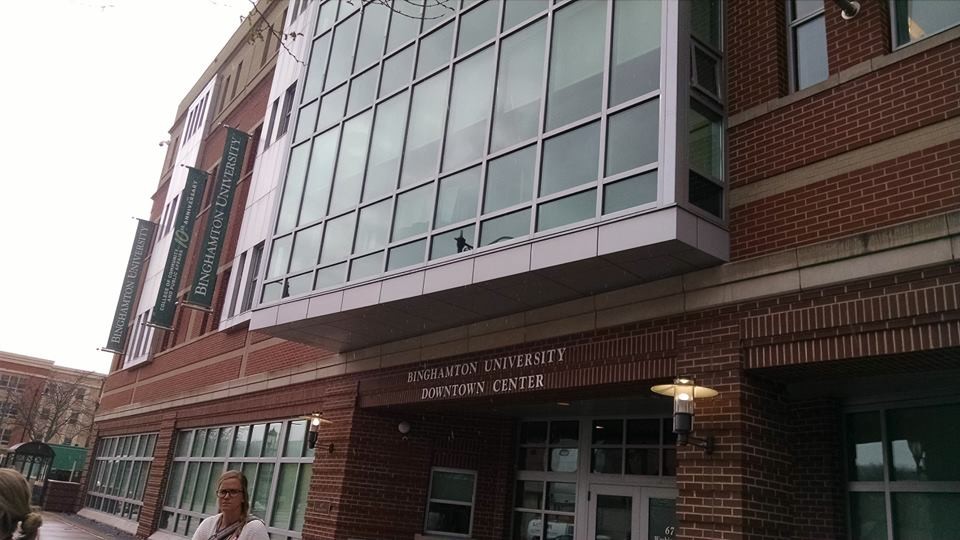 A new pharmacy building will be finished this summer in nearby Johnson City. The School of Nursing will be moving to Johnson City in about two years.
Both downtown Binghamton and Johnson City are about a 7 or 8 minute drive from the main campus.
Housing, Transportation and Food –
Binghamton has residential communities on campus, with a faculty member living in each residential community. Each residential community has its own culture, traditions, student government, and quad. Students can live in a learning community. Each learning community has a theme (e.g.,health and wellness, nursing).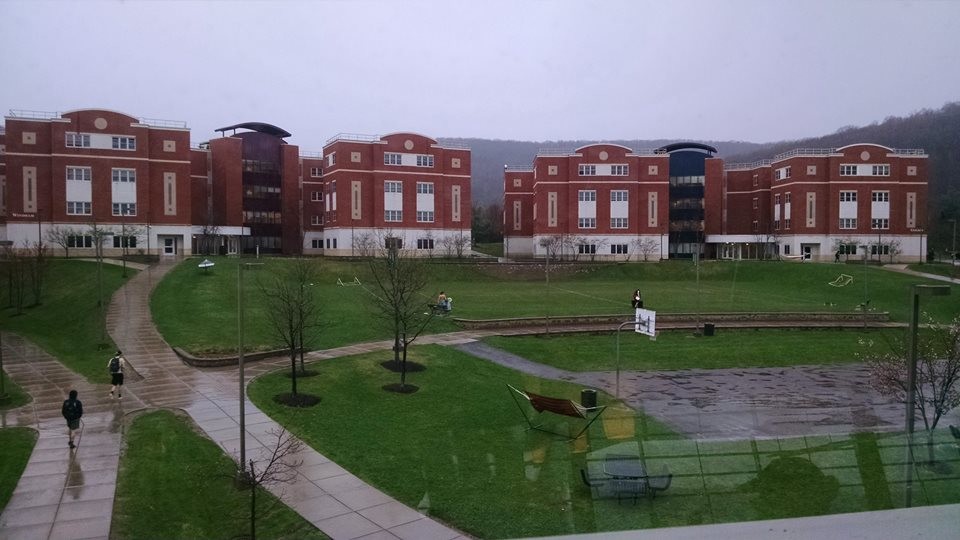 There are different styles of housing and there is no freshmen-only housing. Housing is available all four years although many students move off-campus for their junior and senior years.
The meal plan is a pay-for-what-you-eat plan. There are no all-you-can-eat offerings.
There are blue buses, driven by Binghamton students that take students around campus and nearby, including the other two campuses, off-campus housing, and shopping areas. There is a bike-share available on campus. Freshmen cannot have a car on campus.
Education
– Binghamton offers 130 academic programs in six schools. The six schools are:
College of Community and Public Affairs
Decker School of Nursing
Harpur College of Art and Sciences
School of Management
School of Pharmacy and Pharmaceutical Sciences
Thomas J Watson School of Engineering and Applied Science.
Students can double and sometimes triple major and still graduate in four years. The majors can be in different schools. There are over 50 accelerated bachelor/masters degrees available.
There are honors programs including the Freshman Research Immersion Program, two Scholars Program, and the Summer Scholars and Artists Fellowships.
The Freshman Research Immersion Program has 300 freshmen. In the Fall of the Freshman year they take a research methods seminar; in the Spring of the Freshman year they take a Research Stream Lab Course where they develop a research proposal; and in the Fall of the Sophomore year they conduct research.
Close to a third of students will be involved in research with faculty before they graduate.
There is an effective career and professional development center on campus. There are job and internship fairs in the Fall and Spring. There are also employer visits hosted in New York City, Washington, DC and other cities. 73% of students will have an internship.
About a quarter of students study abroad.
We did a deep dive into the School of Management and learned that the school focused on experiential learning. There were case competitions where students pitched to major companies, hands-on courses where students worked with faculty and client companies, 22 business student organizations, an entrepreneurship living community, an opportunity to invest some of the university's money, as well as many internship opportunities.
Extra-curricular
– Binghamton is a NCAA Division I school with 21 athletic teams, but it does not have NCAA Division I Football.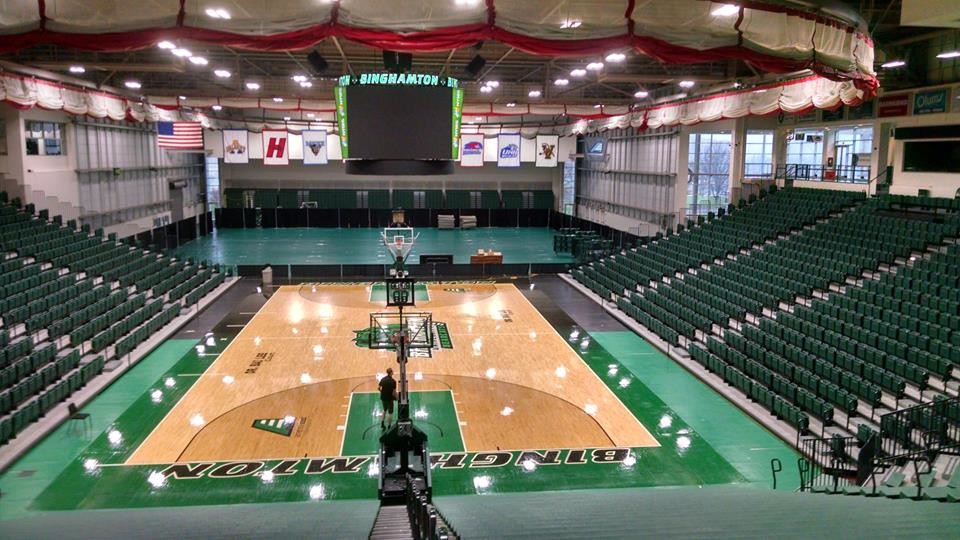 There are over 300 student organizations. There were several theaters and an art museum.
When I visited, the campus was setting up for Spring Fling. Spring Fling includes a great band, amusement park rides and carnival-type food.
There is even a bowling alley.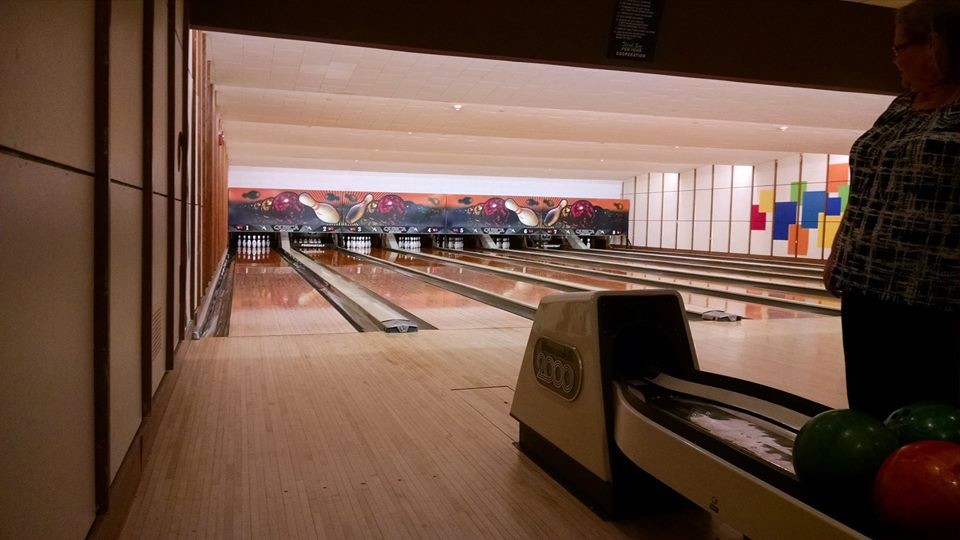 Admissions
– Admission is by school. Currently the Engineering and Nursing schools are the hardest undergraduate schools to get into and the Management school is the next hardest. You can only select one school on your application.
Students need a minimum SAT Math score of 670 to get accepted into an engineering or computer science major. The hardest undergraduate major to get accepted to is Computer Science
Binghamton accepts the Common App. They are trying to increase enrollment of out-of-state students. The mid-50% of accepted students have rigorous high school classes, an unweighted high school GPA of 3-4 – 3.9, and an ACT score of 29-31 (not superscored) or an SAT Math score between 650 – 720 and an SAT EBRW score of 630-710. About 75% of students apply Early Action.
The school offers credit for AP classes taken in high school, if the student received a score of 3, 4 or 5.
Cost
– The price for an out-of-state student is similar to the price for Rutgers University. Merit aid of up to $12K per year is available for out-of-state students.